Hello guys, I hope you all have had a wonderful weekend :)
Now, it's time for our challenge .....
here
is the link
the theme is about OMBRE
Niru has been seeing this trend, it can be about cake decorating, home decorating, fashion etc. So, she suggest our theme for this challenge is about OMBRE..
Just create an OMBRE card or page :)
Our sponsor today is :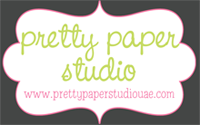 So play with us if u want to win some fabulus goodies from the Dubai based Crafting club
Pretty paper studio , succesfuly run by our very own previous DT member
NEELU !
I choose to use "ombre" in Mae's skirt and add some flowers and ribbons,
here is my card :
stamp - Some Odd Girls (Summery Mae), Amy R Stamps (best bithday wishes)
emobossing - polkadot, die cut - Marianne Designs (rose)
red and white ribbons,paper cardstock
coloring - color pencil (caran d'ache)
To see another DT's creations please go
HERE
I hope you'll play along this challenge!
Have a nice day :)
melissa